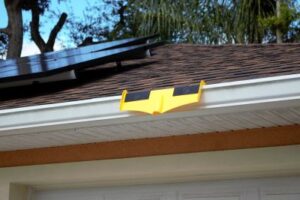 As a contractor for almost forty years, I have never stopped trying to learn and improve my practices and procedures. Sometimes it's the "little things" that really make a difference. Many years ago, I realized that when I would go up on a roof and that house had gutters, the ladder could scratch, dent, and damage those gutters. I am a meticulous, OCD perfectionist—ask anyone who works for or lives with me. When I am at customers' homes, I'm there to install or repair solar systems, not damage their property. Shortly after noticing the potentially damaging effects of ladders on my clients' roofs and gutters, I started wrapping a towel around the top part of the ladder to prevent any scratching of the gutters. I would also look for a support nail in the gutter, where I would rest my ladder in an effort to keep the ladder from denting the gutter. I did the best I could but was always looking for a better way to use my ladder without damaging my customers' investment in their roofs and gutters.
Approximately ten years ago, I discovered a product called the "Gutter Guard Stabilizer." Soon, I realized that this product eliminated the pesky gutter issue I faced. As you can see in the picture(s), the device goes inside the gutter and wraps around the outside to support a ladder. This tool has non-slip rubber for the ladder to rest on, and it completely supports the gutter by fitting snuggly between the fascia and gutter. As a customer or associate of Excel Solar, you will find these gutter guards in every company vehicle and being used on every customer's house, if the individual has gutters. You would have probably never noticed this unique practice of Excel Solar's employees. However, this is just one of the "little things" that the Excel Solar Team does to ensure our jobs get completed correctly and our customers are happy.
C. Russell Moutsatsos
President of Excel Solar, Inc.
State Certified Solar Contractor (License #CVC56933)